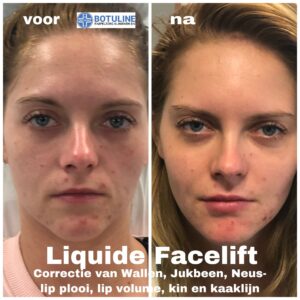 Liquid facelift treatment Amsterdam
Liquid facelifts are the modern alternative to the old surgical facelifts, where skin was cut away and then tightened. During the liquid facelift treatment at Botuline Rimpelzorg Klinieken Almere and Amsterdam, the entire face receives a rejuvenation treatment in which different products are used and different injection techniques are applied to the face.
liquid-treatment-facelift
Therapy:
Correction of bags under the eyes, cheekbones, nasolabial folds, lip volume correction, marionette line and jawline correction.
NB: this treatment is performed within 20-45 minutes with hyaluronic acid and the after photo is 1 month after the treatment.
Liquid facelift is not just about crow's feet or frown lines, for example. With liquid facelifts at Botuline Rimpelzorg Klinieken, the face is treated as a whole, so all-in-one! Because the wrinkles are softened and the facial contours are restored, the face gets a 'lift', so to speak. You can get an impression of the result by moving your cheeks towards your ears.
As the years pass, we lose our youthful curves and our face loses its volume. As a result of the aging process, the smooth skin we once had disappears and wrinkles and sagging skin appear. Think of an apple that you leave for too long; the volume inside the apple disappears, causing the apple to look shriveled on the surface. Filling wrinkles alone is no longer sufficient in the long term
With a liquid facelift/facelift without cutting at Botulinum Wrinkle Care Klinieken, we go further than just filling the wrinkles. Liquid facelift Amsterdam and Almere, a liquid facelift, is about restoring volume to the face. Of course, we can perfectly treat frown lines, crow's feet and forehead wrinkles with the muscle relaxant Botulinum toxin (Liquid facelift Amsterdam and Almere).
We can easily fill wrinkles near the nose and next to the mouth with various fillers such as Stylage, Teosyal, Glytone or Radiesse®.
So with us in Liquid facelift Amsterdam and Almere it can be a combination treatment of muscle relaxers and fillers but also possible to use treads